Headquartered in Mumbai, Mansons is a leading global components manufacturer and supplier for OEM, Tier 1 and the independent aftermarket. We service global component & systems demand for road, rail & marine transport as well as material handling & agricultural vehicle manufacturing Industry.
Established in 1956, we provide product & service of superior quality, exceptional value, performance and reliability to warehouse stockists, fleets and repair shops around the world.
Our customers profit from our extensive product range, tooling expertise, product & materials knowledge and large to batch size engineering & validation capabilities.
Our customers & distributors across the world worldwide rely on our experience and proficiency in product management, rapid development, sales & marketing, product training and distribution skills to meet global component & systems demand.
Mansons product can be found worldwide with an ever expanding network of authorised distributors and partners globally
To be one of the worlds leading components source in the Automotive, Agricultural, Rail, Material handling & Marine Industry admired for our brand, product & partnership & performance excellence.
Our Mission Statement
To support customers worldwide by providing superior products of exceptional value and quality, to gain competitive advantage in their respective markets and segments.
To sustain our mission by constantly seeking improvement through:

rigorous standards for personnel selection.
ongoing training of employees.
use of new technologies and modern equipment.
adoption of the best possible business practices.
To provide a pleasant, nurturing and growth oriented atmosphere which encourages our employees to be highly productive and to develop professionally – while protecting, maintaining and enhancing our environment.
To drive responsibility down to the plant floor – empowering as we go along to allow organic personal growth.
To develop a strong presence in diversified markets around the globe thus providing stability and adequate financial returns to the company, its distributors and its shareholders.
World class tool room
Fully automated surface treatment plant.
Full design and validation capabilities.
Advanced NVH & Fabrication manufacturing facilities spread across 200,000 square feet
Modern material handling & logistics facilities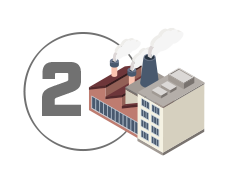 Business Units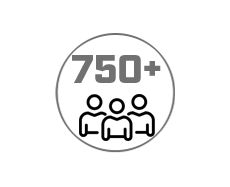 Personnel
Manufacturing locations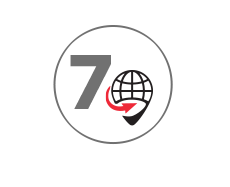 Global offices
Our plants are qualified to meet the following International Quality Standards:
ISO 9001:2015
IATF 16949:2016
Quality Management Capabilities & Strengths:
Mature product development system.
Print to part traceability for every component developed & produced.
Dedicated & specific 'QMS' Team capable of managing multiple
'OEM product engagements' at any given time.
Dedicated laboratories for raw materials testing & compound development & validation.
Engineering Capability for Service parts
Co-Design Capability.
Extensive experience in dynamic testing & validation for commercial vehicle undercarriage components such as bushings, mounts, insulators, isolators, bolsters & supports.
FEA analysis.
Hyperplastic, viscoelastic, impact analysis.
Rate dependent dynamic analysis.
Abaca software & application skills.
Abacus standard & explicit.
Full dynamic lab.
corporate social responsibility
The Company being in Automobile Industry demands not only strong financial results but also balancing economic growth with social and environmental responsibility. Corporate Social Responsibility ("CSR") is the compass which ensures that the Company grows in a responsible way. The Company intends to make a positive difference to society and contribute its share towards the social cause of betterment of society and area in which companies operate. It is recognized that integrating social, environmental and ethical responsibilities into the governance of businesses ensures the long term success, competitiveness and sustainability. The Company aims to create educated, healthy, sustainable and culturally vibrant communities.
Manson's International Pvt. Ltd. (MIPL) respects the privacy and security of the visitors to its website. We collect information during your visits to our website to understand what differentiates you from other users. This policy explains how our website collects your data, how it uses this data and how it shares it with third party. In order to fully understand your rights we encourage you to read this privacy policy. MIPL reserves the right at any time and without notice to change this Privacy Policy simply by posting such change on our site. Continued usage of this website following changes to these terms will mean that you accept these changes.
Affiliations & Memberships
As part of a global manufacturing community we are proudly associated with the following organisations